Wonderfalls to Sky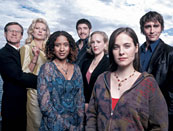 The short-lived and much loved series gets a UK screening.
Our favourite cancelled-before-its-time show will be screened on Sky One from Tuesday 5 July.
For those unfamiliar with the show, Wonderfalls told the story of souvenir store worker Jaye, who starts receiving instructions from normally inanimate objects.
Four episodes were screened before it was canned, but all thirteen were released on DVD Stateside.
---
---