Persuading Steve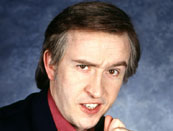 Steve Coogan set to star in film version of The Persuaders.
The Alan Partridge and Around The World In Eighty Days star is to play old-money millionaire Brett Sinclair in the big screen version of the 70s crime-busting drama. The part was made famous by Roger Moore.
Coogan has signed on the dotted line - fulfilling a personal dream of his. It's not known who will play the part of playboy Danny Wilde (originally played by Tony Curtis), but it is thought that producers want Ben Stiller for the role.
Speaking about the appeal of the part, Coogan said, "I really liked the fact that, after Moore had punched someone, he would immediately take a comb out, sort his haircut and wander off."
---
---