Ask the Family axed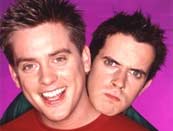 Dick and Dom's revival of the quiz show shelved.
The BBC has announced there are "no plans" to bring back Ask the Family, which was dropped after disappointing ratings.
The series saw Children's BBC presenters Dick and Dom filling the shoes of the quite different Robert Robinson, who presented the show from 1967 to 1982.
Roly Keating, BBC Two controller, told the Radio Times that the show didn't work.
"Dick and Dom are a brilliant talent and it was a clever idea to try to revive a clever format like that.
"But with the best will in the world, I think everyone involved acknowledges that it wasn't perfectly achieved."
---
---