Apollo's mission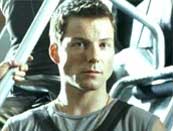 Jamie Bamber on Starbuck and Cylons.
With the second season of Battlestar Galctica due to premiere in America shortly, Jamie Bamber told Syfy Portal what fans could expect.
"There is, in the second season, further confusion about the Cylons," he noted. "Some fight other Cylons along with humans. It's not just a simple analogy for Al Qaeda. There are all sort of religious themes in the whole relationship."
As for his shaky romance with fellow pilot Starbuck, "It's like lots of relationships, you can't simplify it. They are indisputably attracted to each other. But it's latent. There's so much guilt for the dead brother and dead fiancee between them. Then arguably, she's more responsible for his death than anybody else, yet he blames his dad for it."
As for the shocking events of the season one finale, how will the attack on his father shape Apollo? "It's defined Apollo in a new way," revealed Bamber.
"He's completely alone in the fleet... For the first time, he can truly be an individual, rather than someone trapped in this military world."
Battlestar Galactica begins its second season on the US Sci Fi Channel on 15 July 2005, along with the premieres of Stargate SG1 and Stargate Atlantis. All three series can be seen in the UK on Sky One this October.
---
---