Amber's Shadowplay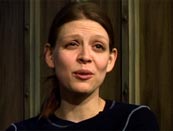 New comic miniseries from Buffy actress.
Former TV witch and Ghosts of Albion scribe Amber Benson will co-write a four issue horror comic miniseries, due out this autumn.
Benson and Witchblade writer Christina Z will team up with other comic authors to pen two unique tales for each issue of the comic.
These will include Demon Father John's Pinwheel Blues, about a syndicate of vampire urchins and Shunt, which tells the story of a perfect woman with a perfect life who stumbles onto a vampire slave ring.
"It's in the mind that shadows create an ignition for filling in the blanks of what we can't see," Christina Z revealed in an interview for the Slayerverse website. "It's that which is the scariest to our own psyche and physical being!"
The first issue Shadowplay is published in America this September and will be available in UK comic shops soon after.
---
---