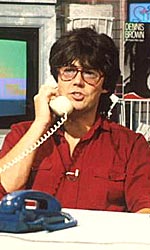 Introduction
Remember when Mike, Sarah and Keith were your wake up call.
Trivia
Things you never knew about Saturday Superstore.
Pictures
Saturday Superstore wallpaper for your desktop.
Video Clips
Watch the titles and classic moments from the show.


Cue titles Saturday morning get down to the Superstore.

Happy Valentines Mike, Keith, Sherlock and your letters.

Bag a Bargain Mike and Keith try blow tops.

Prize Pick Rentaghost guests and Dobbin pick the winners.

Lookee likee Mike's double, or is it?

In the Sports Department Introducing Ike.

Slice of life The BBC canteen bread buttering machine.

Expert tosser Keith talks to the BBC pancake expert.