New BP presenter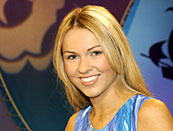 30th Blue Peter presenter announced.
Zoe Salmon, a former Miss Northern Ireland, will join the team in December, when Liz Barker goes on maternity leave.
She got the gig after replying to an ad in a local paper, and passing the traditional trampoline test. She also had to make a Christmas card and report from London Zoo.
Zoe said: "It's been the biggest secret I've ever had to keep and it will be a major relief to tell my friends and family.
"I'm so excited and I'm really looking forward to all the mad stuff I know they throw at you on Blue Peter."
Her first appearance will on the programme's Christmas musical spectacular on 23 December.
Zoe has a message for viewers on the Blue Peter site. Click on the link below to read it.
---
---