Trek competition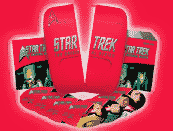 Win Original Series season three DVD box sets.
It's the final volume of small-screen adventures for Kirk, Spock, Bones and the rest of the original Enterprise crew, and we've got two copies to give away.
For a chance to win this compendium of classic Trek, just answer the simple question below.
Which of the following is not a real season three episode title?
A. For The World Is Hollow And I Have Touched The Sky
B. Where Valor Leads
C. Spock's Brain

Don't forget to check the Rules first.
So, tell us the answer.
---
---