Dan Dare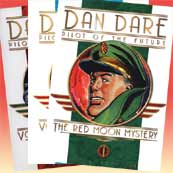 Titan's reprints of the Pilot of the Future reviewed.
Titan Books have recently published three volumes of Dan Dare's thrilling adventures from the pages of The Eagle. Knowing he's partial to a bit of space pilot action, we asked Dead Ringers writer Nev Fountain to pen us a review.
Ah, I remember the 90's! Playing Space Fleet and Treens in the park, jumpers for space stations, zapping each other with our cardboard ray guns, then going home for tea - Vitamin Blocks and Spam of course!
Father would be there, in his sensible sleeveless pullover, puffing on his pipe by the mantelpiece, reading the Daily World Post and listening to UNBC news, worrying about the food shortages and hoping the next consignments of Ovaltine and Brylcreem manage to get from Mars without the rocket ships being ambushedå
There's only one thing more exciting than stories set in the future, and more beguiling than stories set in the past, it's stories set in both the past and the future at the same time. Dan Dare is the quintessence of future nostalgia. It's a wonderfully exciting collection of stories, escapism for boys in short trousers stuffed full of catapults and cigarette cards.
The real charm is that the future of Dan Dare is actually the 1950s by proxy. It borrows not from sci-fi contemporaries but the propagandist war films of the 40s, a genre when upper lips were stiff, moustaches were stiffer and everyone was called Ginger or Tommy – even the men.
It's breathless, gung-ho, and untouched by cynicism. Some critics today might call it naïve, but it isn't - it's optimistic, and that's what's needed when you're living in a country crawling out from under the second world war. Dystopian science-fiction only becomes fashionable when bellies aren't full of powdered egg and you're not overly worried about being blown up by doodlebugs.
It's not just the "future-seen-through-the-innocent-eyes-of-the-past" that makes Dan Dare so compulsive. Look at SF television. Anyone can go misty-eyed when remembering polystyrene rocks and rocketships made out of fireworks, but for something to really last and transcend some offhand notion of kitsch nostalgia (to separate the disposable Lost in Spaces and Time Tunnels from the more resilient Star Treks and Doctor Whos) it has to have an extra special something.
Like Judge Dredd's Mega City One and Terry Pratchett's Discworld, the world of Dan Dare was constructed by Frank Hampson with such love and attention to detail that you can really immerse yourself in his strange vision of the future.
For example, look at Dan Dare's first adventure, Pilot of the Future (or Voyage to Venus if you're reading the splendid new reprints). Superficially, it's similar to Flash Gordon's debut (hero journeys to planet ruled by tyrant, travels around planet, meets lots of peoples, defeats tyrant), but this is Flash Gordon with a brain.
It describes spaceships and planetary environments as real, living facts of life, things you can touch and see, rather than the superficial Dick and Jane versions (See The Spaceship! The Spaceship Flies! The Monster Eats The Spaceship! Bad Monster! ) you get in bad SF.
These felt real in the same way the Star Wars universe would feel real some thirty years later. Venus was my Dad's Tatooine, and the Anastasia his Millennium Falcon.
This was a time when comics bothered to inform as well as kill baddies, and much of Dare was based on Hampson's own RAF experiences. It grounds everything in engineering and physics – most of it quaint and nonsensical, but explained with such enthusiasm and with such lovely diagrams that you wished elektrojets and veteocranes really existed.
Please avail yourself of these new reprints. You won't be disappointed. Any lover of science fiction literature, or Boy's Own adventure stories, or wartime movies, or comics, orå Well, any lover of anything can't fail to love the Adventures of Colonel Dare and his loyal chums.
All together nowå "Let þem have it, Dig!"
Titan's Dan Dare reprints so far are Voyage to Venus parts one and two and The Red Moon Mystery.
---
---