Sapphire and Steel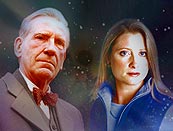 First of a new audio series of Sapphire and Steel released.
The Passenger, produced by Big Finish, written by Steven Lyons, stars David Warner as Steel, Susannah Harker as Sapphire and Mark Gatiss as Gold.
A dark Winter's evening in the year 2004. Sixty-six year-old steam enthusiast and antiquarian book dealer Philip Burgess steps onto his long overdue train, unaware that Time has decreed that this will be his final journey.
Sounds lovely - and it's even got the original theme, but who is that mystery voice?
---
---