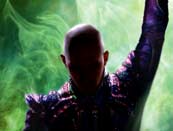 Nemesis

Double trouble for Picard and Data.

Insurrection
A good episode of Trek, but no more.
First Contact
The peak of the films?
Generations
Starts well, but then?
The Undiscovered Country
Farewell to the original crew.
The Final Frontier
Shatner directs, but how about his acting?
The Voyage Home
We love it!
The Search for Spock
Proving he's a must?
Wrath of Kahn
Brings meaning to the term 'a slug in your ear'!
The Motion Picture
Or should that be 'motionless'?